Calm.
It's how you'll feel knowing you have a boatload of information about your shipments, orders, and transportation spend at your fingertips.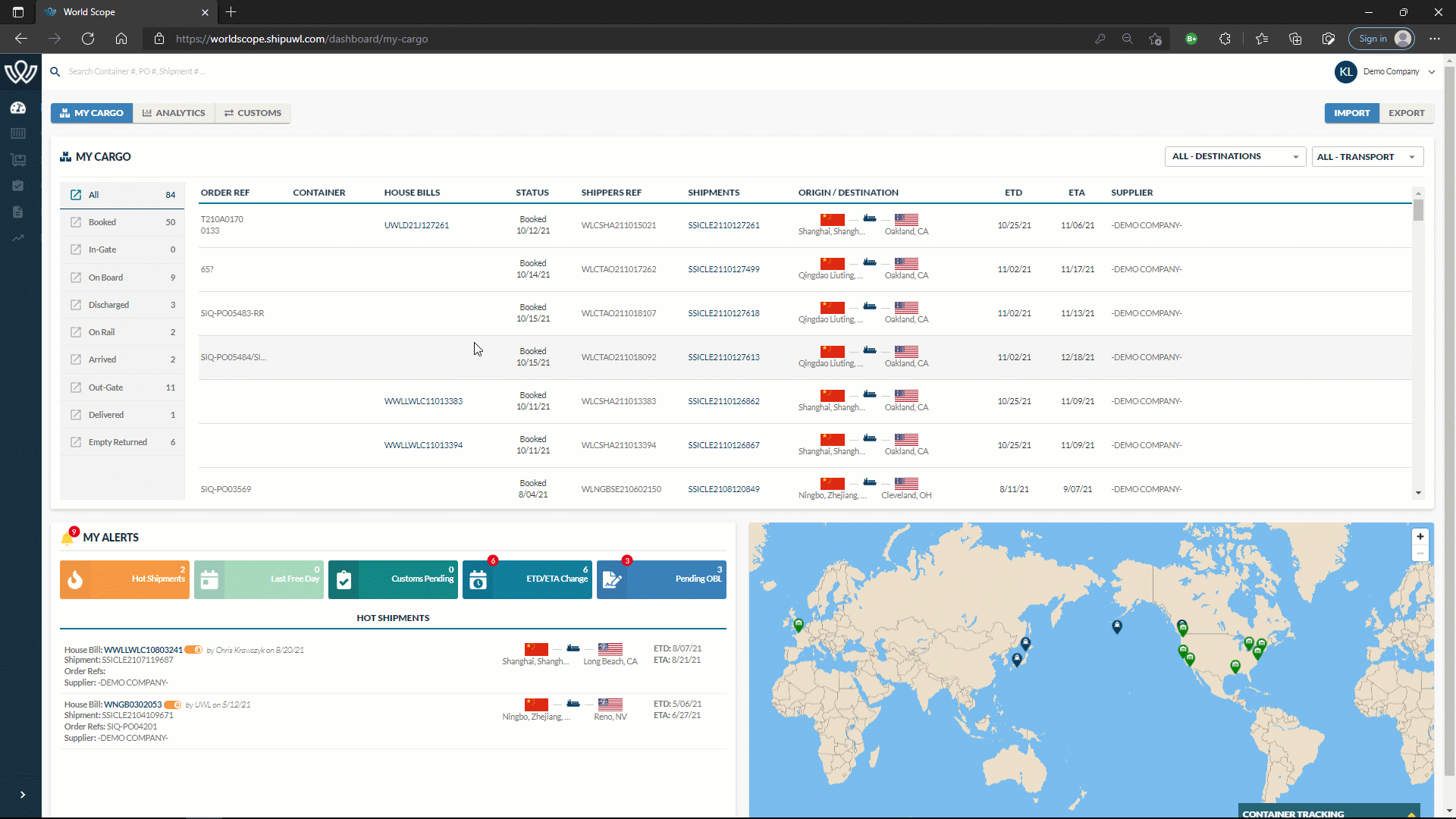 UWL is committed to protecting and respecting your privacy, and we'll only use your personal information to provide the products and services you requested from us. You may unsubscribe at any time. For more information, please review our Privacy Policy. By clicking submit, you consent to allow UWL to store and process the personal information you submitted.
Command Your Freight From Docs to Docks
Track shipments, manage documents and invoices, analyze and report on your shipping activity across all lanes - in one place.
WorldScope is a supply chain management platform that aggregates and normalizes data from multiple carriers into one cohesive, easy-to-use system.
Book a demo to see how WorldScope can work for you.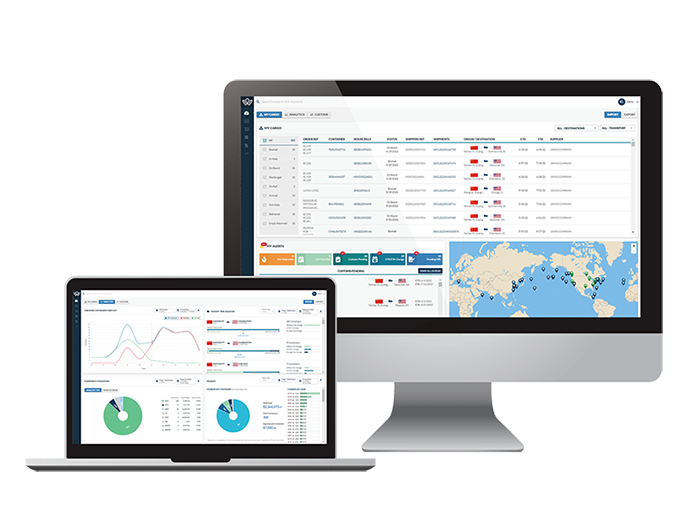 Integrations with All Major Carriers
Visibility from Origin through Delivery
View booked, in-gated, in air, & on water activity on one dashboard
Regardless of country of origin, volume of vendors or booking frequency, WorldScope presents information simply and in real-time,
allowing shippers to make critical decisions and avert potential risks.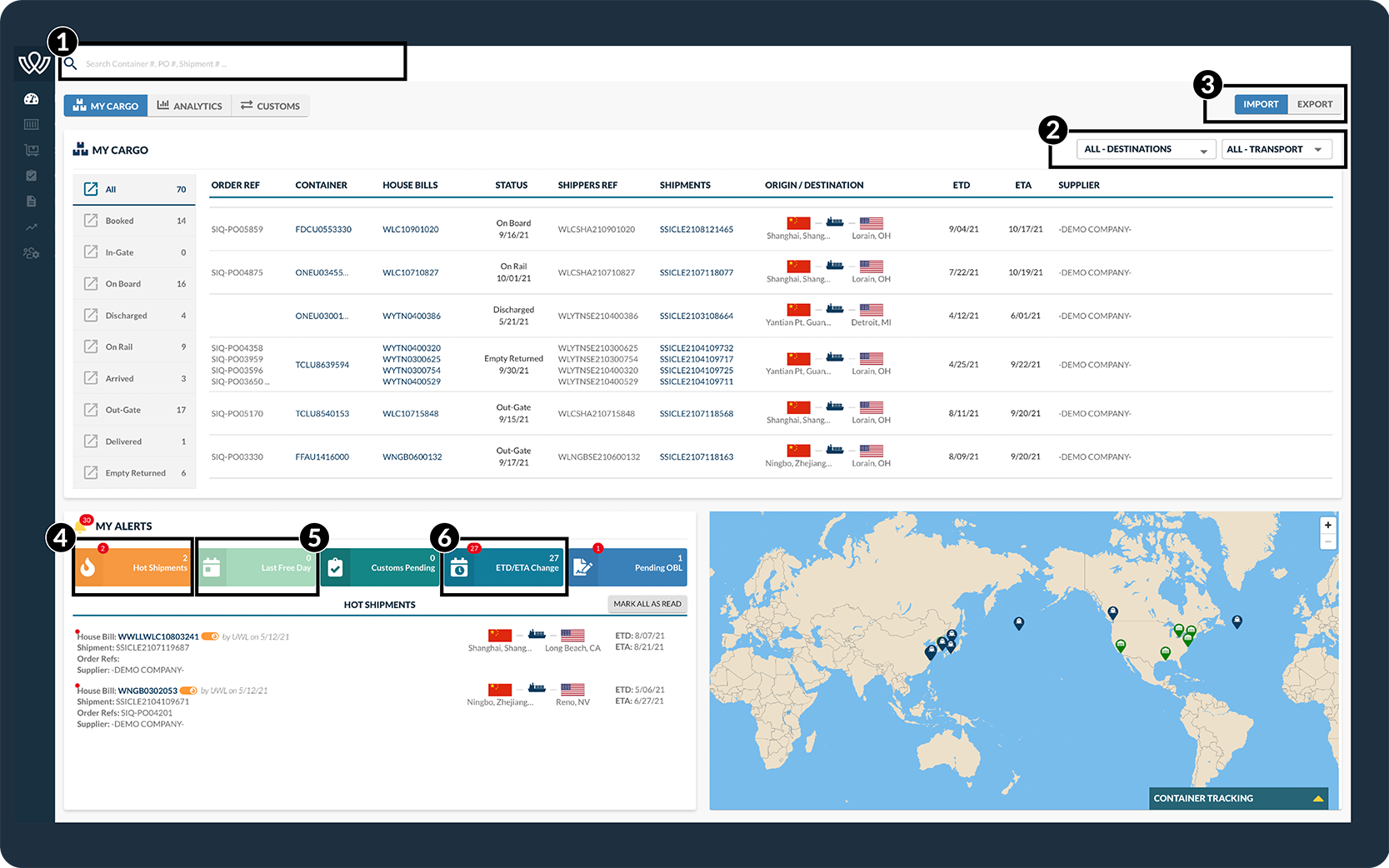 1. Easily search
for specific containers, POs, or shipments

2. Filter shipments
by destination and/or mode

3. Track Imports and Exports
in the same system

4. Mark important shipments "HOT"
for an At-A-Glance view as soon as you sign on

5. See when the Last Free Day (LFD)
is approaching and take action to avoid demurrage and detention fees

6. Get alerts for exceptions
and when delivery dates change so you can spot delays right away
*NEW* Export Bookings Tool
Click, Book, Ship. Save Time with Online Export Booking
Shippers and their suppliers can quickly and easily make bookings through WorldScope's Export Bookings Tool.
No more waiting around for emails or having to call to place a booking - the power is now in your hands!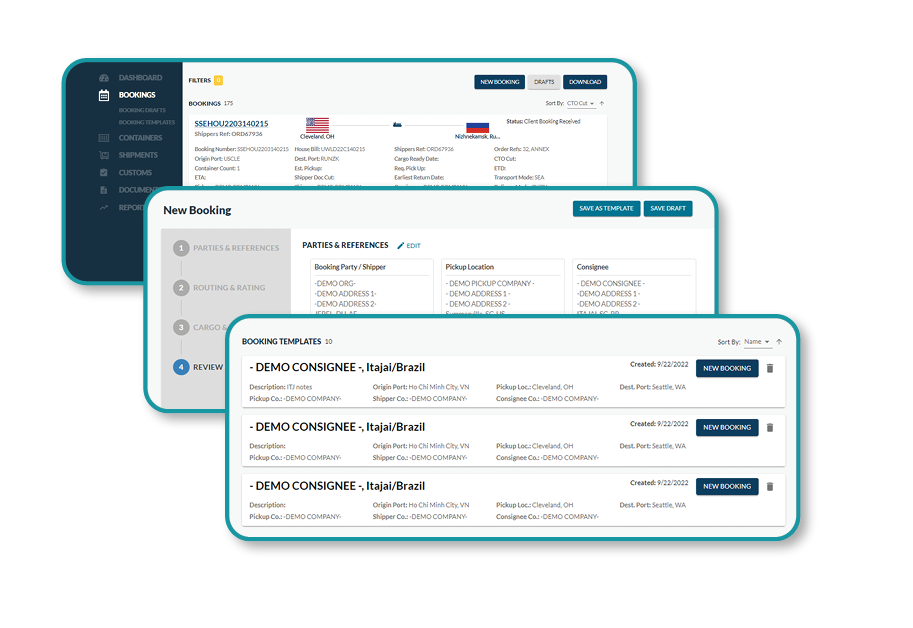 Easily create, view, and manage bookings on demand,
from any device


Book in seconds - WorldScope pre-populates information
from your supply chain partners


Collaborate with partners by adding booking remarks
so everyone is on the same page


Save bookings as Drafts and Templates for quick and
easily repeatable processes
Analytics Dashboard: A New Look at Supply Chain Performance
Get access to real-time insights and custom reports to help with critical decision making
Flexible filters allow for macro or micro analysis, making it easy to understand how your business is performing, identify potential
risks, and see how your logistics dollars are being spent.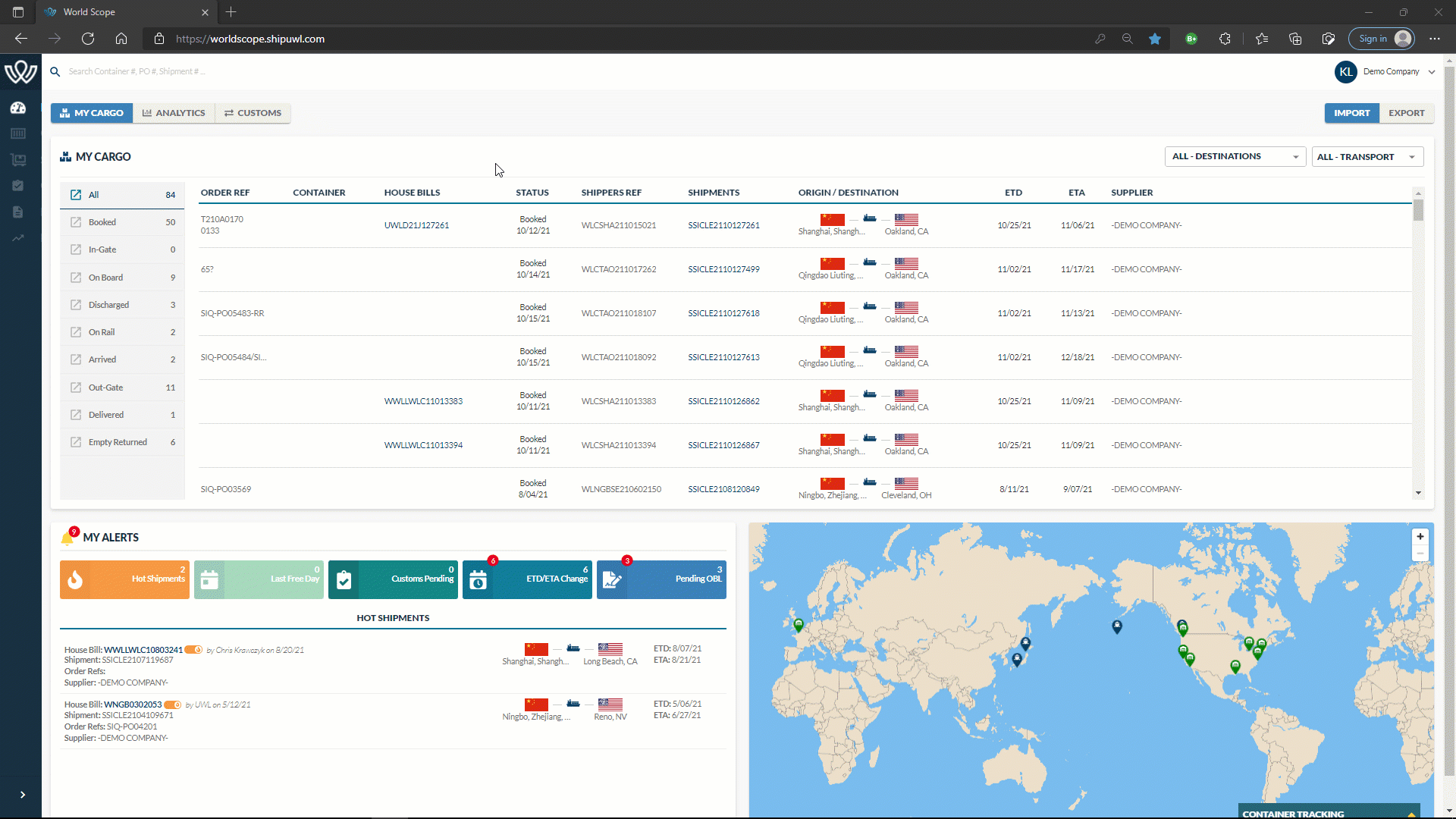 Customs Dashboard: All Customs Updates in One Place
Easily manage Customs entries & documents in a centralized dashboard
View active entries, track ISF Filing Status, easily see which shipments are missing documentation, and track if shipments cleared Customs.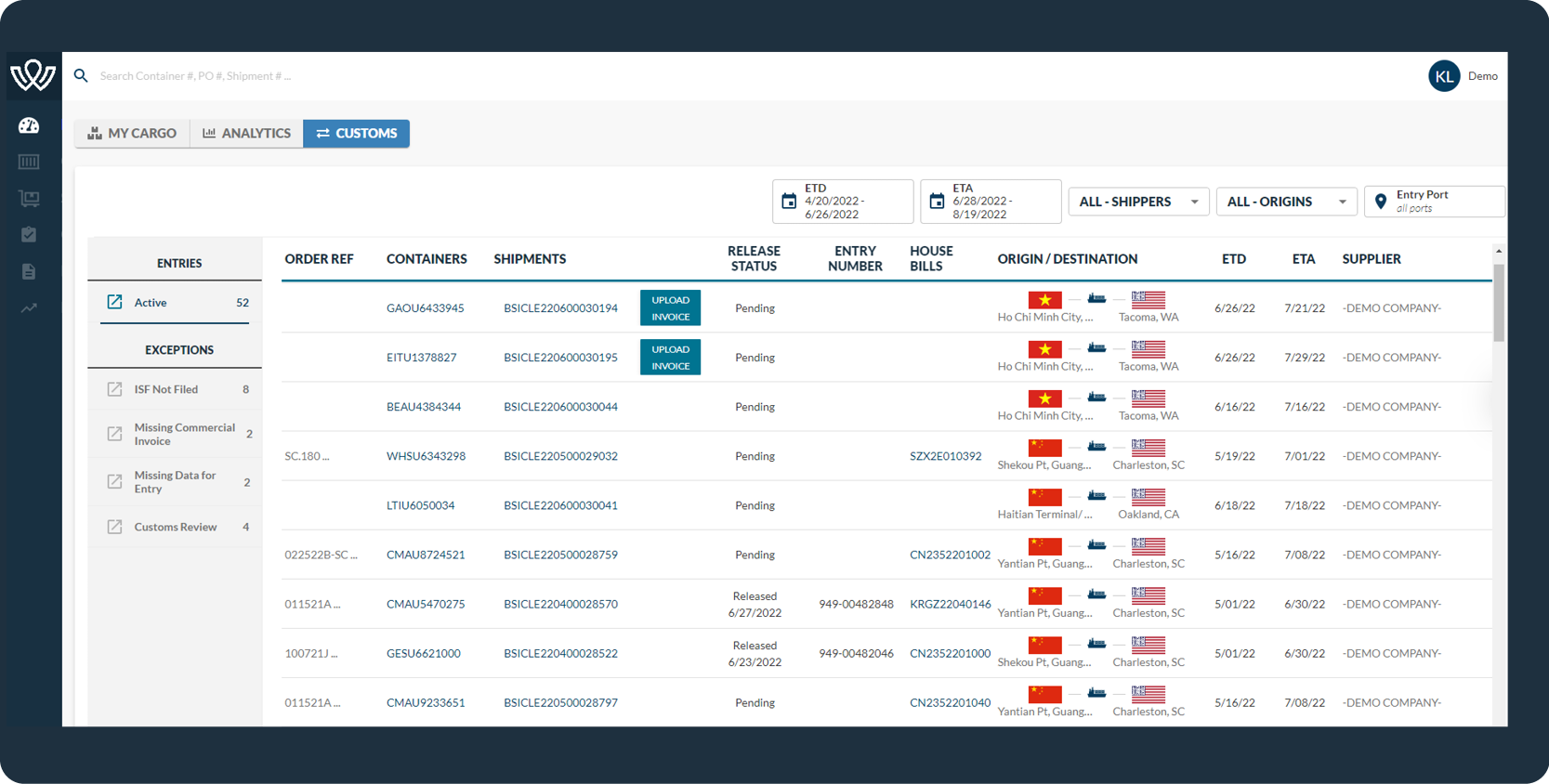 Frequently Asked Questions
Can we see the detail behind the Finance Analytics Widget so we can automate our landed costing and financial analytics?
Yes. You can run a report and have it automatically sent to you once a month to give you shipment cost component detail from our Report Module.
Can we easily access our shipment documents including invoices?
Yes. You can download them right from the House Bill page when looking at a single shipment or you can batch download them from our Document Module.
Where can I see any issues that need to be addressed to clear my shipment quickly?
You can go into our Customs Dashboard which is set up specifically to categorize issues like missing documents or information. You can upload missing documents directly from the dashboard or access the last email asking for additional information and respond from there.
Can I see where my containers are today even where they are on the rail?
Yes, you can drill into any container and see a list of the events and information we get from the carriers and the rail providers.
I spend a lot of time filtering data to send reports to my customers for their export shipments. Does WorldScope let us send reports to them directly even if we don't want to give them access to the system?
Yes, WorldScope can create reports filtered by consignee and email them to anyone outside of the system you want to.
Can we control what people can see when they log into WorldScope?
Yes, we can restrict access to financial information and reporting, hide all documents or let users only see specific documents – like Packing Lists for your warehouse people.
Designed with You in Mind
Built by Logisticians for Logisticians to Help You Grow & Scale
We understand how important it is for you to have access to transparent and consistent information about your supply chain, so we've heavily invested in this technology and the dedicated team who makes it possible.
WorldScope is different from other tracking and supply chain visibility technologies in that we aren't a third party technology company, we are logisticians with years of experience moving freight. We've been in our your shoes and seen it all - from the Carrier side, the logisticians, the buyer/planners, and the end customers.
We built WorldScope with customization in mind so that each team in the supply chain can easily see what matters to them in a meaningful way — all on one platform.
From the Team Who Built It
Hear from our leadership on how WorldScope helps shippers achieve more with greater visibility.
Dan Ambroziak
Vice President, IT, World Group/UWL
+23 years of experience in Information Technology on the trucking side
"Our customers have access to the status of each of their shipments along with a dashboard displaying shipments with exceptions and a watchlist to track "HOT" shipments. This enables our clients to significantly improve their customer service without adding staff.
Our focus is on data, we believe accurate data is the foundation of any successful digital transformation."
Brigitte Dinter
Sr. Solutions Architect, UWL
30+ years of experience managing logistics for US Importers in Retail & Healthcare
"The more SKUs a company has, the more they need a system to help manage them. WorldScope helps supply chain partners easily see where their freight is - whether they are looking for a container or a particular item - throughout it's journey.
This level of visibility helps shippers better forecast Available to Pick (ATP) to their customers and gives them data-driven insights to make smarter business decisions."
Jennifer Olivarez
Director, Enterprise Applications, UWL
14 years of experience in operations management for large NVOs
"We built WorldScope and WorldScope+ to be user-friendly with an intuitive interface that is easy to understand and navigate. We understand every business is different and one size does not fit all, so we made sure WorldScope would be very customizable.
From exceptions tolerances to milestone rules to custom dashboards, the system is easily configurable based on clients' needs and how they operate their business."
Duncan Wright
President, UWL
+25 years experience working for ocean carriers like DeWell, Topocean, & Sea-Land
"What we've done, which is very unique, is we've taken all of our operating feeds and created customization around full, global visibility, around Purchase Order Management, around the asset-tracking of the drayage moves, and of course, the ability to make bookings and all the functionality that is in our core operating systems. But in addition to that, we're also taking feeds in from multiple sources like vessel tracking and drayage tracking, and other unique feeds of data visibility for our customers."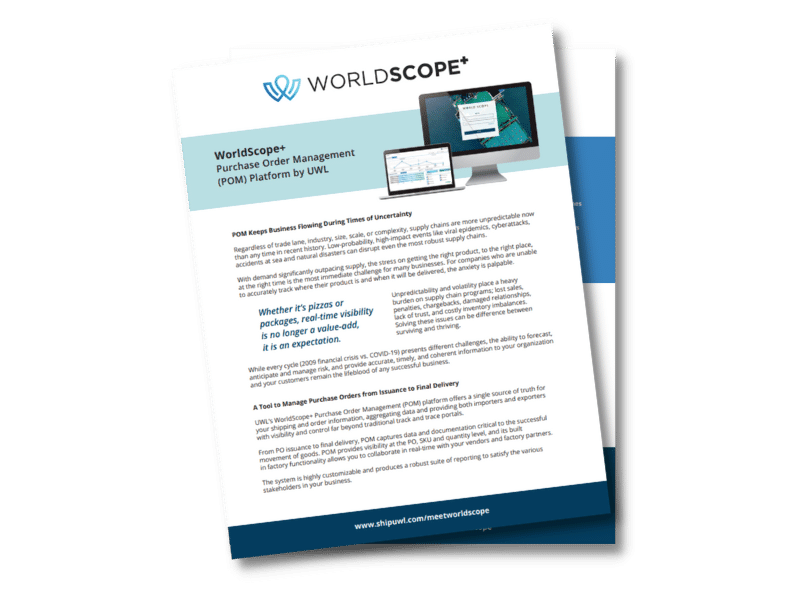 Predictive Planning for Uncertain Times
With supply chains more unpredictable than ever, shippers need the ability to accurately forecast freight volumes, track their shipments, manage risk, and provide timely information to their organizations and customers.
"Whether it's pizzas or packages, real-time visibility is no longer a value-add, it is an expectation."
Shippers who cannot do this can face lost sales, penalties, chargebacks, damaged relationships and even costly inventory imbalances. WorldScope and WorldScope+ Purchase Order Management deliver effective container management and predictive supply chain planning for shippers.
Download our whitepaper to learn more about how these systems can help you better manage your supply chain and logistics activities.